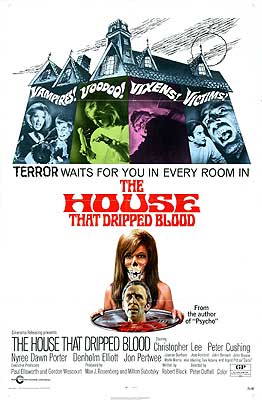 The House that Dripped Blood (1971) **½
The British Board of Film Censors always considered horror movies to be a sort of pornography of violence and superstition, and as we've often discussed, the organization deployed every bit of power at its disposal in a 30-year campaign to prevent the things from getting made or released in the United Kingdom. The board had permanently lost that fight by the 1960's, of course, but its persistent meddling had some curious unintended effects on the way British horror films were marketed domestically, even into the following decade. Ever since Hammer Film Productions shaved the "E" off of The Quatermass Xperiment, the adults-only X Certificate with which the BBFC had hoped to stigmatize the genre became a badge of honor instead, something to be actively courted rather than shrunk from in fear of restricted box office prospects. That reversal could be seen even at Amicus Productions, where studio boss Milton Subotsky claimed to be nauseated by the levels of gore and grotesquerie in Hammer's output. (Personally, I suspect that it was really the rival firm's consistently greater market share and profit margins that turned Subotsky's stomach.) When the extraordinarily mild and genteel The House that Dripped Blood received merely an A Certificate (recommended for adult audiences, but not restricted to them), Subotsky and his partner, Max Rosenberg, pleaded for it to be upgraded to X! The bewildered censor obliged, which no doubt contributed to this movie's reputation as one of the weaker Amicus anthologies. Especially in light of the lurid title, the most shocking thing about The House that Dripped Blood is how determinedly un-shocking it is. The film has its virtues, to be sure, but they're all a good deal subtler than either that handle or the bespoke X Certificate would tend to imply in a film of this vintage.
If The House that Dripped Blood also strikes you as an awfully specific title for an anthology movie, then perhaps you'll not be surprised to see that this film has an unusually solid link between the framing story and its several segments. Inspector Holloway of Scotland Yard (John Bennett, from The Face of Darkness and The House in Nightmare Park) arrives in a village on the outskirts of London on a mission that he considers an absolute waste of his time. B-movie actor Paul Henderson (Jon Pertwee, the third incarnation of Doctor Who) has gone missing in the middle of shooting his latest picture, and the producers are frantic to find him. Naturally, the first place Holloway looks is Henderson's home, but he finds that A. J. Stoker (John Bryans), the landlord's agent, has already locked up the house good and tight. The inspector will need to see Stoker about that, of course, but first he detours to the local police station to set up his base of operations. There, the desk sergeant (John Malcolm) tells him with visible relish that Henderson is by no means the first renter of that house to come to grief, and that a few of his predecessors met curious ends indeed. Sergeant Martin will explain, if the inspector has a minute to listen…
The first of those doomed tenants were mystery author Charles Hillyer (Denholm Elliot, from Transmutations and Vault of Horror) and his wife, Alice (The Day After Tomorrow's Joanna Dunham). They rented the house because Charles was looking for someplace both quiet and inspiring in which to work on his next novel. Shortly after moving in, Charles was indeed inspired, and in an unusually vivid way. What came to him was not a plot or a setting, but rather a villain— a deranged serial strangler by the name of Dominick, on the loose from an asylum for the criminally insane. So clear in his mind was the new character that Charles took the trouble of sketching his portrait to store in his desk drawer as a kind of creative totem. Charles excitedly showed Alice the drawing, predicting that Dominick was going to make the new book his biggest seller ever. And who knows? Maybe the novel would have been a record-breaker if Hillyer had ever completed it. He never did, though, because once he really got rolling behind the typewriter, Dominick (Tom Adams) seemed to take on a life of his own…
After the Hillyers came Philip Grayson (Peter Cushing), a lonely, aging bachelor looking for someplace quiet to spend his solitary retirement. The details of Philip's back-story are left tantalizingly vague, but it's clear enough that the reason he never married is because he never got over a woman whom he loved and lost in his youth. Soon after moving in, Charles discovered Jacquelyn's Museum of Horrors, a shabby little wax museum in the village's miniature downtown, and he went inside on a lark. It ended up being a disturbing experience— not because the sculptures on display were too grisly for his mild sensibilities, but because the figure of Salome presenting the severed head of John the Baptist was the spitting image of his long-lost love. Philip didn't sleep well that night. He had another brush with his uncomfortable past the next day, too, when his old friend, Neville Rogers (Joss Ackland, of Rasputin, the Mad Monk and The Apple), dropped in as a diversion from some business trip or other. Neville was Philip's rival for Miss Long Ago's affections back in the day, but in the end he was unable to hold onto her either. The two men hadn't seen each other since, but they both agreed upon their reunion that it was long past time to let bygones be bygones. Unfortunately, when the old friends went out on the town together, Neville felt himself drawn to the wax museum just as Philip had been, and he too felt the past wash distressingly over him the instant he laid eyes on Salome. The misfortune lay not in any renewal of the pair's old rivalry, but rather in how Neville's interest was greeted by the proprietor of the museum (Wolfe Morris, from The Abominable Snowman and The Clue of the New Pin). You see, the resemblance between his Salome and the other men's lost love was no coincidence. The proprietor fell for the very same woman in turn, only he took it a lot harder than Philip or Neville when he came in for the serial heartbreaker's usual treatment. Furthermore, killing and taxidermizing the faithless woman hadn't done a thing to allay the museum owner's jealousy of her…
Halloway heads off in exasperation at that point, bound for the office of A.J. Stoker. Consequently, it's from Stoker himself that the inspector hears what supposedly happened to the next person to rent Henderson's house. Not that it seems to have much bearing on the actor's disappearance, mind you. John Reid (Christopher Lee) was a strange, severe widower with a pretty, young daughter by the name of Jane (Chloe Franks, from I, Monster and The Uncanny). Reid kept to himself to a conspicuously abnormal degree, and he was even more abnormal about keeping Jane to herself. Jane had never been to a school, receiving all her education from private tutors. She was forbidden to make friends with the neighborhood children, and discouraged from developing any interests that might lead to socialization. The poor kid wasn't even allowed any toys, least of all the dolls that girls her age typically play with. Unsurprisingly, Jane was turning out even weirder than her dad. When Ann Norton (From Beyond the Grave's Nyree Dawn Porter), the new tutor, was introduced to Jane, she found her a fearful, moody, deeply withdrawn child, boiling with anger she knew no way to express. Most ominously of all to Mrs. Norton's way of thinking, the girl was desperately frightened of fire, although she claimed never to have been burned, nor to have known anyone who had. Put it together with Reid's ironbound refusal to explain himself to anyone, and it's no wonder the tutor feared child abuse. Indeed, that may well be the reason why Ann accepted the position teaching Jane— to keep an eye on her and her tight-lipped, domineering old man. But if Jane justly resented her father, Reid was equally justified in being terrified of the little girl. Jane's mother, you see, was a witch, and all Reid's restrictive rigmarole was intended to forestall her taking after Mom. Of course, it actually had the effect of making Jane actively want to…
Alright, but what about Paul Henderson? Stoker claims to know about his fate as well, although he despairs at this point of the inspector believing the story. As Holloway probably knows, Henderson made his career primarily in horror movies, especially horror movies involving vampires. In fact, that was the subject of the film he was making when he disappeared, Curse of the Bloodsuckers. What the inspector might not have realized is that Henderson was also a difficult, opinionated son of a bitch who generally thought he knew better than people like directors, screenwriters, production designers, wardrobe mistresses, and so on. He certainly thought he knew better than penny-pinching producers and studio heads. Curse of the Bloodsuckers sorely vexed him, with its hackneyed script, tacky sets, and wet-behind-the-ears director (Richard Coe), but what finally pushed him over the edge was his costume. That cheap piece of shit was no good at all, and Henderson took the extraordinary step of procuring a more suitable replacement out of his own pocket. The proprietor of the antique shop where Henderson ultimately found the perfect Dracula cape was an odd fellow named Von Hartmann (Geoffrey Bayldon, of The Young Playmates and Tales from the Crypt). He became strangely excited once he realized what Henderson was looking for, practically giving the thing away for a mere thirteen shillings. It was eerie, though, what happened later. Just hours after Henderson left, the boutique burned to the ground, and the police discovered a coffin, of all things, in the basement when they came to investigate the fire. Weirder still, the man inside that coffin appeared to have died of natural causes despite the inferno raging upstairs. But Henderson's first hint of what he'd gotten himself into by buying that cape came during the next day's shooting, when he unaccountably bit his costar, Carla Lind (Ingrid Pitt, from Countess Dracula and Beyond the Rave), for real. Vampire expert that he was, Henderson put the pieces together quickly enough, but even then he didn't realize until it was too late that more than mere happenstance had led him to buy a cloak conveying the curse of undeath…
Stoker was right to suspect that Halloway would scoff at his testimony. Neither does the inspector listen to the estate agent's entreaty not to visit the house where Henderson vanished until after sunrise tomorrow. I'm sure you understand why, even if Holloway is too thick to get it on his own…
The House that Dripped Blood represents something of a break from the horror anthology norm. Instead of including a mix of strong stories and weak ones, it comes by its unevenness by failing to stick the landing every single time despite uniformly strong initial showings. The Hillyers' tale awkwardly combines a Scooby-Doo ending with a 70's bummer twist. The wax museum segment squanders sensitive, melancholy performances by Peter Cushing and Joss Ackland on a story that seems to have very little point at all, even before it gets crushed to death beneath a ritualistically gruesome conclusion. The bit with the juvenile witch leaves acres of rich psychological territory virtually unexplored for sheer lack of time. And the concluding snide satire of contemporary Brit-horror is undermined at every turn by the very savvy that makes it so amusing. It looks rather foolish to have the protagonist forever bitching that no one knows how to do vampires right these days in a story that rivals Twilight for wholesale invention of previously unattested vampire lore. Even the framing story comes unglued in the end, when A.J. Stoker breaks the fourth wall to tie the other four segments together by asserting a theme that is simply not present in any of them.
The House that Dripped Blood has much to recommend it, though, if you can forgive its serial deflations. The direct link from the final segment back into the framing story gives the film solidity and coherence beyond what one typically encounters in anthology films. Dominick is scary as hell when he seems to be a figment of Charles Hillyer's imagination, and scarier still when he appears to become a projection of the writer's subconscious. Cushing and Ackland, as I said, are magisterial in their portrayals of two sad old men driven apart and ultimately reunited by shared misfortune. Their characters and characterizations belong in one of the better sentimental "Twilight Zone" episodes, and are ill-served by the detour into E.C. Comics-style grand guignol which their segment takes at the last.
The third segment is the most effective from the standpoint of all-out horror, adroitly deploying the trope of the evil innocent. Crucially, Jane Reid is shown to be both truly evil and truly innocent, responding to her father's precautionary cruelty with a convincingly childlike excess of vindictive wrath. The part is so well written that the almost American wretchedness of Chloe Franks's acting barely matters. John Reid, meanwhile, embodies a clever subversion of audience expectations. Christopher Lee plays him as the most loathsome sort of authoritarian bastard, but it gradually becomes apparent that he's the one living in constant terror here— even as his own actions make the outcome that he fears ever more inevitable.
Finally, the cape segment brings The House that Dripped Blood to a close (or nearly to a close, anyway) on an unexpectedly humorous note. Jon Pertwee delivers the perfect piss-take on what Christopher Lee must have looked like to the producers of British horror films during this era, carping sourly to anyone who'll listen about the plight of the B-movie star. Henderson's status as Lee parody makes it all the funnier when Pertwee rhapsodizes about Dracula before disdainfully clarifying, "Bela Lugosi, I mean— not… this new fellow." Cruder but just as funny is Pertwee's flamboyant lack of composure in the face of his incipient undeath. And of course it was a canny move to cast Ingrid Pitt as Carla Lind, who is a great deal more than initially meets the eye. Although Pitt had completed The Vampire Lovers and Countess Dracula for Hammer, neither one had been released yet when The House that Dripped Blood started shooting. Obvious though it might seem in retrospect that Pitt was poised to become the new rising star of the subgenre, she hadn't actually done so yet, so bringing her onboard was a bit of a gamble. I mean, Hammer were pushing Ralph Bates just as hard at the time, and look how that turned out! Pitt basically serves as Pertwee's straight woman here, but you know what I always say about those. It's an especially vital role in this case, because the whole segment is really an extended setup for the final gag revealing why Henderson was steered into acquiring the accursed cape, the delivery of which falls to her. The ability to be funny without being FUNNY! is essential, and it turns out to be one of Pitt's less obvious assets. None of the foregoing can hide The House the Dripped Blood's defects, of course, but it does countervail them substantially.
Home Alphabetical Index Chronological Index Contact