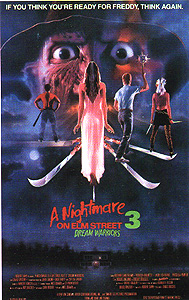 A Nightmare on Elm Street 3: Dream Warriors (1987) ****
After Freddy's Revenge, it wouldn't have taken a whole lot of effort to make it look like the Nightmare on Elm Street series was back on track. Keep Freddy in the dreams where he belongs, don't let a guy from the marketing department write the script, maybe hire John Saxon back for a cameo, and fans of the series everywhere would be hailing Part 3 as a glorious return from the brink of mediocrity. So it's highly commendable that New Line Cinema did far more than this minimum of damage control when the time came to make a second sequel. Of greatest importance, they went back to Wes Craven with an offer to write and direct. Craven was hard at work on the execrable Deadly Friend at the time, so directing was out, but he did pitch series producer Robert Shaye a story that the latter man liked enough to commission a script based on it. Craven himself, together with Bruce Wagner, wrote four drafts of the screenplay before New Line turned it over to director Chuck Russell (who had written Dreamscape) and a friend of his named Frank Darabont for another round of rewrites. Craven, as usual, wasn't entirely happy with what the other two writers came up with, or with the way he was treated by the studio after Shaye had his hands on the script. Nevertheless, A Nightmare on Elm Street 3: Dream Warriors ended up being far closer to the spirit of the original film than its immediate predecessor, and stands as one of the very few sequels in existence that actually add something of value to the stories they purport to continue.
The real key to that success lies in the fact that this movie departs from the standard operating procedure for slasher sequels, and brings back characters from a preceding film in roles of real consequence, but I'm getting ahead of myself here. Let's start where the movie does, in the bedroom of teenaged Kristen Parker (Patricia Arquette, from Stigmata and Ed Wood, who I just bet you doesn't list this flick on her resume anymore). Kristen, like the teen protagonists of the past two installments, is plagued by nightmares. Her bad dreams are always set in the same house, a dilapidated suburban Dutch colonial familiar from the last two films as 1428 Elm Street, but to Kristen (who's never set foot near the place, so far as she can remember), the setting for her nightmares is all it is. She follows a little blonde girl inside, where she is always attacked by a badly scarred man we know as Freddy Krueger (still Robert Englund) but who, again, is just a recurring boogeyman as far as Kristen is concerned. One night, her dream becomes a bit more involved, continuing after Kristen thinks she has woken up. Under the influence of the dream, she sleepwalks into her bathroom and slits her wrist with a razorblade; her mother (Brooke Bundy, of Stewardess School and Night Visitor) finds her just in time to save her life.
The main consequence of Kristen's dream-induced suicide attempt is her commitment to a psychiatric hospital that seems to specialize in treating young people, under the care of Dr. Neil Gordon (Craig Wasson, from Ghost Story and Schizoid) and his supervisor, Dr. Elizabeth Simms (Priscilla Pointer, from Carrie and C.H. U.D. II: Bud the C.H. U.D.). Kristen fits into Gordon's caseload in a remarkable way, in that she is just one of several patients about her age who are suffering from intense and debilitating recurring nightmares. In each case, the nightmares have turned their sufferers into "problem kids." Geeky but outgoing Philip Anderson (Bradley Gregg, of Stand By Me and Class of 1999) and avid puppet hobbyist Will Stanton (Ira Heiden) have both attempted suicide in the past; Philip is now confined to a wheelchair because of injuries he sustained while jumping from a roof. Taryn White (Jennifer Rubin, from Bad Dreams and Screamers) turned to heroin for solace. Jennifer Caulfield (After Midnight's Penelope Sudrow) burns herself with cigarettes to stay awake. Roland Kincaid (Ken Sagoes) acts out belligerently. Joey Crusel (Rodney Eastman, of Chopping Mall and Beverly Hills Bodysnatchers) has been so traumatized that he has lost the ability to speak. Worst of all is the story of a boy who was recently transferred to Bellevue. He somehow got hold of a straight razor, and cut off his own eyelids in an effort to overcome sleep and the nightmares it brings. There's one thing all these kids have in common, though, that their well-intentioned doctors either haven't noticed, or have dismissed as irrelevant. They're all originally from the same town, and indeed from the same neighborhood, the Elm Street corridor of Springwood which once gave rise to the vigilante mob of outraged parents that burned serial child-killer Freddy Krueger alive. There is just one person on the hospital staff who sees this pattern and recognizes it for what it is— a newly arrived intern by the name of Nancy Thompson (Heather Langenkamp, reprising her role from the original A Nightmare on Elm Street).
Nancy doesn't buy Simms and Gordon's contention that the shared nightmares are merely the coincidental symptoms of the individual teens' underlying psychological disturbances. The kids' dreams are all too similar to each other, and, for that matter, to the deadly dreams Nancy and her friends had back when they were in high school. But it isn't until Nancy goes to interview Kristen's mother that she knows for sure. There, in Kristen's room, she finds a papier-mâché model of 1428 Elm Street which the girl built from memories of her nightmares. Right away, she recommends that Gordon prescribe Hypnocil— an experimental new dream-suppressing drug that she herself has been taking for some time now— to all his dream-disorder patients, but the doctor balks at the idea. And while Gordon's resistance evaporates when Will and Jennifer die in what could either be sleepwalking accidents or suicides on successive nights, Simms is reluctant to see the drugs administered even then.
Meanwhile, there are two developments that, in combination, could rid the offspring of the Elm Street lynch mob of Fred Krueger once and for all. First, Nancy discovers that Kristen has a hidden psychic ability, the power to mind-meld with other sleepers and draw them into her dreams. That talent raises the possibility of Nancy and her patients joining forces and taking the fight to Freddy, instead of simply waiting around for him to pick them off one by one. Then, at Will's funeral, Gordon meets an old nun he recognizes as an occasional volunteer worker at the clinic. Sister Mary Helena (Nan Martin, of The Young Nurses) hints that she knows a thing or two about Krueger, and later reveals that he was conceived in the disused high-security wing of the very hospital where Gordon works. Back in the late 1940's, a nurse was accidentally locked in a ward with the most dangerous inmates in the whole asylum. They succeeded in hiding her from the rest of the staff for weeks, raping her "hundreds of times" over the course of her accidental confinement. Half-dead and pregnant when she was finally rescued, the nurse— Amanda Krueger— later gave birth to Freddy, "the bastard son of a hundred maniacs." Sister Mary Helena advises Gordon that Krueger's spirit must be laid to rest, his mortal remains found and buried in hallowed ground. Only then will he be prevented from carrying out his vicarious revenge against the children of his own killers. While Nancy uses hypnosis to forge her patients into a squad of "dream warriors" trained to manipulate the pliable reality of the subconscious in the same way that Freddy himself does, Gordon teams up with Nancy's father (John Saxon, also returning to his old role), to whom fell the task of disposing of Krueger's body all those years ago, to recover the killer's bones and give them a more decent burial. But Freddy Krueger isn't like those folkloric ghosts who go around haunting people in the hope of getting a satisfactory funeral out of them. He doesn't want to be laid to rest, and can be counted upon to use every bit of the power he's been extracting from the souls of his recent victims to make sure that neither Gordon, Nancy, her father, nor the Dream Warriors live to do it.
This is how a sequel ought to be. A Nightmare on Elm Street 3: Dream Warriors expands upon the story of the original in a logical way, departing far enough from its predecessor to remain fresh and interesting while still remaining true to its origins. There is no trace of the retread here, and Dream Warriors completes the process begun by Freddy's Revenge, tossing out virtually every one of the tired conventions of the slasher movie. There is no Final Girl or Boy, nor any single hero figure at all— quite a surprise in a story that could easily have turned into a simple grudge match between Nancy and Freddy. Instead, a concerted effort among all the threatened protagonists is required to defeat the killer. Equal attention is paid to teen and adult characters, and the adults (with one exception) are understanding of and cooperative with the endangered youth. Most striking of all, none of the murders is preceded by the protracted stalking sequences for which slasher movies are justly noted. This time around, Krueger takes full advantage of his power to distort and control dream reality, and never once settles for simply chasing his prey around and then skewering it with his finger-knives. Furthermore, with the exception of Will and Jennifer, Krueger's victims in Dream Warriors all put up a fierce fight before going down, exhibiting a level of resistance traditionally reserved for Final Girls.
A Nightmare on Elm Street 3 is also unusual in that it benefited, rather than suffered, from New Line's understanding that they had box-office gold on their hands. Like Freddy's Revenge, Dream Warriors was given a bigger budget than its predecessor, and that money was extremely well spent. But the folks in charge of this movie took care to make sure the story was driving the special effects, and not the other way around. The nightmare sets are more elaborate in this outing, and though some viewers might long for the famous (and super-cheap) boiler room locations of prior installments, their replacement by a hellishly twisted version of the Elm Street house helps set this movie apart from its predecessors. The highly convincing gore effects are used sparingly and in imaginative ways (the close-up on Taryn White's trackmarks, gaping like hungry hatchlings when Freddy brandishes an array of heroin needles at her, is especially unnerving), and there are even a few beautifully staged— and completely unexpected— stop-motion sequences, including a 7th Voyage of Sinbad-inspired battle between two of the characters and Krueger's animate skeleton that had me giddy with excitement when I first saw it back in 1987.
But where A Nightmare on Elm Street 3: Dream Warriors goes most right is in its cast and characters. Well written and believable characters had been much of what set the first A Nightmare on Elm Street on a plane above the more mundane slasher movies of its time, and although that distinction wavered somewhat with the second film, Dream Warriors again marks a return to form. Bringing Nancy and her father back was the best decision this movie's several writers could have made, and the Langenkamp-Englund-Saxon triumvirate that was so important to the original is just as effective here (though Saxon doesn't have much to do). But it isn't just those three returning players; this cast is strong just about all around, and it's no surprise that two more of its members (Patricia Arquette and Laurence Fishburne [who has a small part as Max the orderly]) developed into big stars a few years down the road. My only real complaint on this front— and just about my only real complaint with the movie— concerns the treatment of Freddy Krueger himself. Englund is as good as ever, but the interpretation of the character had begun to soften by this point, hinting in the direction of the wise-cracking caricature he would become the very next year. Despite his vastly increased power, Krueger just isn't as scary as he was the first time he dragged his knives across the boiler room piping in 1984. But even so, A Nightmare on Elm Street 3: Dream Warriors is a superior sequel, made by people who understood what made the original tick. If only there were more like it...
Home Alphabetical Index Chronological Index Contact